Executive Team
At Strand Hospitality Services, we believe that the only thing as important as our principles are our principals - the leaders of a hospitality management team that is among the most respected in the industry. We know that our associates will only be as dedicated as their leaders, and our frequent presence at each property and easy-access by our employees will ensure that only the highest quality service is provided. Our theme, "Proven Excellence In Hospitality Management," begins with our executives. We invite you to learn a little about each of us below.
---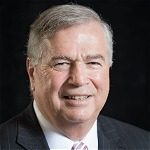 John Pharr
President
Phone: (843) 222-2740
"Our formula for your success is simple yet profound: we treat each property as our most important property, each client our most important client, each guest our most important guest. In the final analysis, our business depends entirely on your success."
For many in the industry, John Pharr and Strand Hospitality Services are synonymous. With the company from the start when he was general manager of the Holiday Inn Downtown on the oceanfront in Myrtle Beach, Pharr has been at the helm of Strand since 1984. Under John's leadership, Strand has earned a place among the leading hotel management companies in the southeast.
His skills as an administrator combined with his unparalleled knowledge of the hospitality business have made him an icon in the travel and tourism industry and it surprised no one when he was named Hotelier of the Year by the Myrtle Beach Hospitality Association, which represents hundreds of hotels and more than 75,000 rooms along the grand strand.
John earned his MBA from Webster University and his undergraduate degree from Michigan State University. John retired as a Colonel in the United States Air Force Reserve, where he worked with the Air Force on lodging and hospitality projects worldwide. He also served as an Air Force Academy Admissions Counselor.
Pharr is a member of the Myrtle Beach Rotary Club. He serves on the board of National Golf Course Management, one of the largest golf course management companies in the United States. He currently serves on the board of Myrtle Beach National Companies and has done so for over 30 years. In addition to this he serves on the appointed board for the Michigan State University School of Hospitality Business and the advisory committee for the Real Estate Investment Management Program. He was formerly on the board of directors of the American Hotel and Lodging Association. He is a former member of the Wingate Inns Presidents Advisory Council.


Jay Keller
Chief Operating Officer
Phone: (704) 726-1085

"I believe in the leadership philosophy of 3 P's: Passion, Purpose and People. To be a great leader, you need to know your "why". To give life to your ideas, you need the support and shared passion of your team. To inspire people, you need to spark movements, not just produce a well-designed product backed by a creative marketing campaign. Only then you will ignite and excite people in unimaginable ways. And that is what leads to a long-term success."
Jay is a 30+ year veteran of the hospitality industry and has been with Strand Hospitality for well over a decade. He joined S.H.S. in 2006 as a Regional Director of Operations and served as Vice President of Operations for 8 years. In October 2015, Jay assumed his current role as the Chief Operations Officer. Responsibilities include the oversight and development of all the operating strategies, senior level management, owner relations and financial results of the properties managed by Strand Hospitality Services. In addition, he heads all national purchasing programs, development and capital improvement needs for the company. Jay has been a part of developing and opening 22 hotels and has directed over 140 million dollars in full-scope renovations.

Jay has a vast working knowledge of the hospitality industry including positions such as an Executive Chef, General Manager of larger, full service hotels, Area Manager roles and Regional Operations management. He has a wide range of educational background including an Associate degree in Business Administration from Sinclair College, many industry specific courses, adult continuing education from The Ohio State University and is C.H.A. certified.

Jay is based out of our Charlotte area operations, which is where he lives with his wife, Stacey.
John Johnson
Chief Financial Officer
jjohnson@strandhospitality.com
Phone: 843-222-2742

"Success is not a matter of desire, but the product of hard work"
John is the Chief Financial Officer for Strand Hospitality Services and is responsible for all aspects of financial and administrative management at all Strand properties. He joined Strand in 1997 after his previous years of public accounting experience brought him to Myrtle Beach from the New England area where he earned his Bachelor's Degree in Accounting from State University of New York College at Geneseo in 1992.

John believes our key to success is providing our owners with effective and accurate financial reporting on a timely basis - there is no room for error, no room for tardiness. We know that our continued relationship is contingent upon producing solid bottom line results and it is, therefore, our top priority. John is a licensed CPA in South Carolina and a member of the American Institute of Certified Public Accountants, the South Carolina Association of Certified Public Accountants, the Grand Strand (Myrtle Beach Area) Chapter of Certified Public Accounts, and Hospitality Financial and Technology Professionals.
When John is not busy ensuring the financial success of Strand Hospitality Services and our properties, he enjoys golfing and playing tennis. He is based out of our corporate office in Myrtle Beach, which is where he resides with his family.